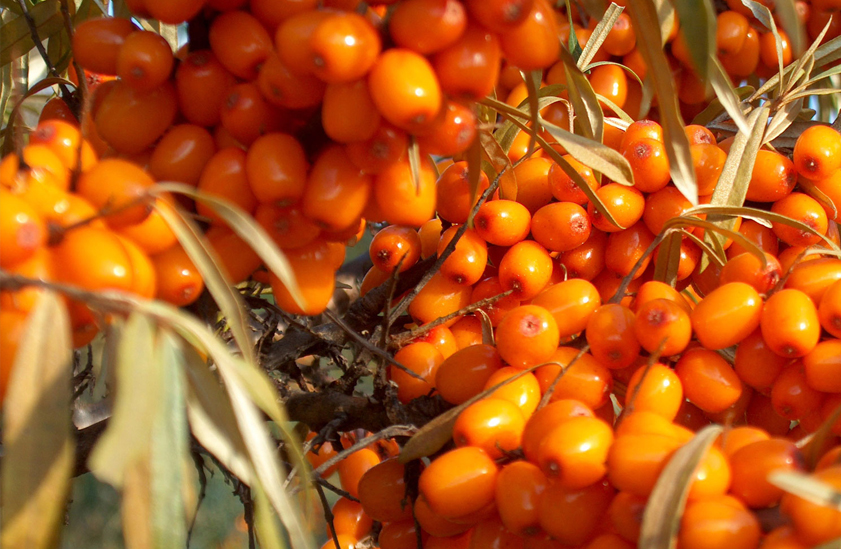 Establishment of European-Asian Network for the development of strategies to enhance the sustainable use of Sea Buckthorn

Food and Safety-Project in the 6th EU-Research Framework Programme
Establishment of European-Asian Network for the development of strategies to enhance the sustainable use of Sea Buckthorn
Sea Buckthorn (Hippophae rhamnoides) is native to Europe and Asia and has been known and used by humans for centuries.
During the last decades, Sea Buckthorn has attracted special attention and became an important subject for domestication in many countries as it is one of the most interesting plants for human use.
Sea Buckthorn berries are amongst the most nutritious and vitamin-rich fruits found in the flora. Several studies confirm numerous beneficial characteristics and more than 190 bio-active compounds in Sea Buckthorn.
The EAN-SEABUCK project aims at the establishment of an integral cooperation network between Europe, China, Russia and the New Independent States for a joint sustainable utilisation of Sea Buckthorn.
Aims and milestones of the EAN-SEABUCK project are:
Establishment of a Network for the trans-national technology and know-how transfer for a joint sustainable utilisation of Sea Buckthorn in Europe, China, Russia and the NIS countries
Improvement and exchange of knowledge between Europe and Asia in the field of Sea Buckthorn harvesting and processing
Achieve a better product quality and safety which permits to reach international quality standards and thus make the obtained products available for the European market
Establishment of a long-term Sea Buckthorn industry in the targeted countries, supporting the rural sector development
Strengthen the competitiveness of the European food industry in the use of bio-active compounds
Support healthy nutrition in the Asian and European population
Support of anti-erosion measures by incentives to the care of the Sea Buckthorn plantations
Participant Institutions:
ttz Bremerhaven , Germany (Co-ordinator)
NIG Nahrungs-Ingenieurtechnik GmbH, Germany
International Centre on Research and Training on Sea Buckthorn, China
Northern Research Institute of Forestry, Russia
Scientific Officer EC: Dr. Jean-François Maljean
Further information on this project: