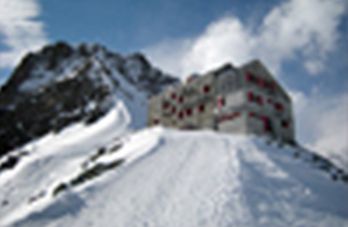 Development of an innovative sanitation and wastewater treatment system for remote located tourist facilities

Research for the benefit of SME, 7. EU-Framework Programme
People with a fondness for hiking know the problem well: Sanitary systems at tourist enterprises in solitary areas of Europe are often out of service or do not meet contemporary environmental requirements. In addition, food has to be provided by helicopter. The increasing interest of potential customers as Alpine Clubs, agro-tourism or hotels arise from more demanding regulations, the tourists' increasing comfort expectations and the enterprises own interest to preserve the attractiveness of the local environment for visitors. Many rural tourist enterprises are facing extremely challenging conditions regarding technical and legal requirements, extreme climatic conditions, limited energy and water supply and large variation in activity depending on season.
Within the two years of duration, the consortium will develop sustainable solutions. The partners aim at presenting a prototype at pre-commercial status at the end of the project. This construction is supposed to provide a solution for ecological wastewater treatment and food availability at isolated places.
Existing sanitary systems can be designed to meet these requirements, but become very expensive due to technical complexity, maintenance need and energy use. By combining treatment units for black- and greywater an affordable complete treatment system for wastewater can be constructed. Developing a vacuum sanitation system that uses its wastewater for a greenhouse after a treatment is the objective of the SANBOX partners. It is supposed to be empowered by driven by solar energy. The goal is to demonstrate that near "zero emission? wastewater treatment system can become reality.
The envisaged SANBOX prototypes will consists of technological modules for blackwater treatment, grey water treatment and evapotranspiration module. It is possible to integrate also a greenhouse which will be irrigated with water purified to swimming water quality. After a treatment the water is used to grow fruits and vegetables. After the finalisation of these modules, they will be integrated into a SANBOX unit and their interaction will be further tested and optimised. In the final stage of the project three specific SANBOX prototypes tailored for the main target markets will be assembled and tested at the Alps, the Mediterranean region and in Norway. This project provides the end-users a sustainable "zero-emission? solution regarding blackwater effluents and swimming water quality with regard to greywater effluents. The involved SMEs receive an important research base as well as user feedback on the development of the commercial product and dissemination of the results.
Further informationens on the SANBOX project:
Radio broadcast on the Schweizer Radio DRS1 (26.10.2010)
Press release: High-tech on distant peaks (13.05.2009)
SANBOX project homepage ( www.sanbox.info )