When fruits and vegetables are processed to food products such as wine and snacks, in most cases sulphur dioxide (SO2) has a finger in the pie. The main function of this additive is the prevention of enzymatic and non enzymatic browning in foods, especially fruit and vegetable products. In addition, sulphur dioxide has strong antimicrobial capacity and preserves against microbial spoilage. "The SO2SAY project will develop a strategy to replace the application of sulphur dioxide or its salts for almost all food products" explains coordinator Hauke Hilz. "An important aspect for food applications is the preservation of the sensory quality and shelf-life of the SO2-free products."
Bremerhaven, 18th June 2009. Nine partners from four European countries and Israel start their work on SO2SAY , a three year EU-funded project with a total budget of 4.5 mio €, thereof 3 mio € funding, with a kick off meeting in Bremerhaven, Germany. The project, coordinated by ttz Bremerhaven, will combine research on innovative SO2 replacing agents, mild processing steps and packaging technologies. ttz Bremerhaven (DE), Campden BRI (UK), Wageningen University (NL), University of Bonn (DE), Fundacion Leia (ES), Gemüse Meyer (DE), Biurko Gorri (ES), Ekolo (ES) and Frutarom (IL) defined to increase food quality, to reduce health risks for consumers as well as to increase the competitiveness of European SMEs in the food and drink industry on the global market as their main strategic objectives.
Sulphur dioxide (SO2) is traditionally used as antioxidant and preservative in fruit and vegetable products, dried fruits, snack products and wine. The main advantage of SO2 is the combination of antioxidative activity with its ability to inhibit polyphenol oxidase, which is catalysing browning of food products. Furthermore, sulphur dioxide acts as food preservative preventing microbial growth. However, SO2 and sulphites strongly reduce vitamin B1 uptake. Reduced uptake of this vitamin can lead to several health problems such as chronic headache and disturbance of the memory. Food is the main source for the uptake of sulphur dioxide.
A special risk group is the group of asthma patients. Sulphites are promoting attacks of asthma. For these patients an intake of less than 10 mg sulphite might be enough to provoke an asthma attack.
"Considering these facts, the application of SO2 in food products has to be avoided by novel processing technologies or replaced by different, healthier additives", knows Hauke Hilz. "This will promote Food Quality and Safety as well as consumer's Quality of Life".
Three approaches are followed to finally replace SO2 and sulphites in food:
Reduction of oxygen contact of the food producs e.g. by modified atmosphere packaging or by edible coatings for fruits and vegetables,
Use of plant metabolites as antioxidants and antimicrobial agents, and
Inhibition of polyphenol oxidase, which is responsible for enzymatic browning in fruit and vegetable products.
However, the reduction or replacement of SO2 bears the risk of changing the foodstuffs sensory properties, especially color and taste. Thus, consumers may refuse such food alternatives, though these alternative foodstuffs can be considered healthier. Therefore, all developments in the SO2SAY project will be accompanied by comprehensive sensory studies and consumer tests.
More information about the project SO2SAY can be also found in the project description and in the Press Release: Wine without sulphur
---
Press pictures for editorial use (foto: ttz/pr)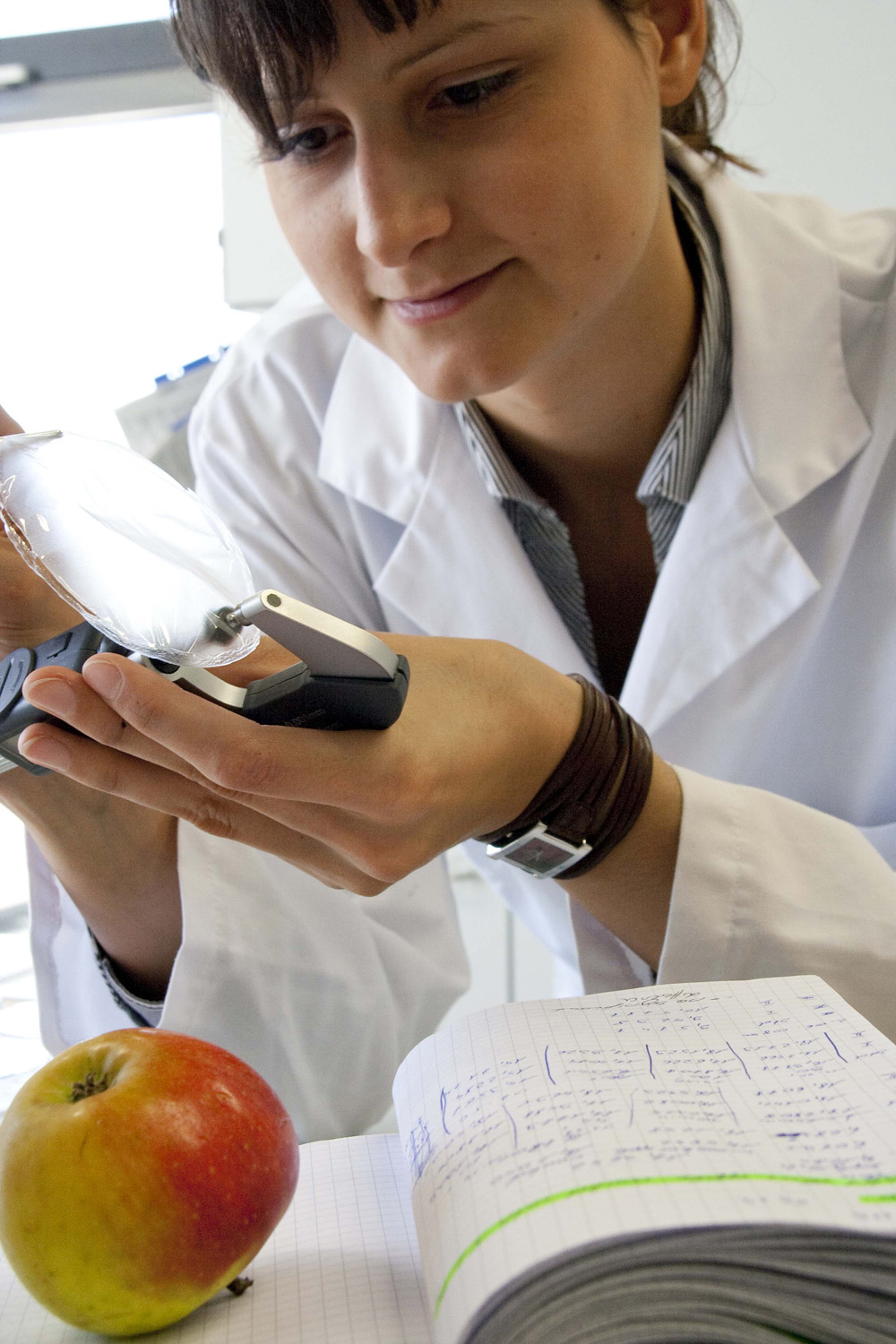 Picture 1:
Within the project SO2SAY, researchers of the ttz Bremerhaven try to replace sulphur dioxide in food products.
Picture 2:
Appels have been used for the analysis which have also been investigated regarding their sensory characteristics after removing the SO2 treatment.
Download with right mouse button: "Save as…"
---
ttz Bremerhaven is an innovative provider of research services and operates in the field of application-oriented research and development. Under the umbrella of ttz Bremerhaven, an international team of experts is working in the areas of food, environment, health and consulting.